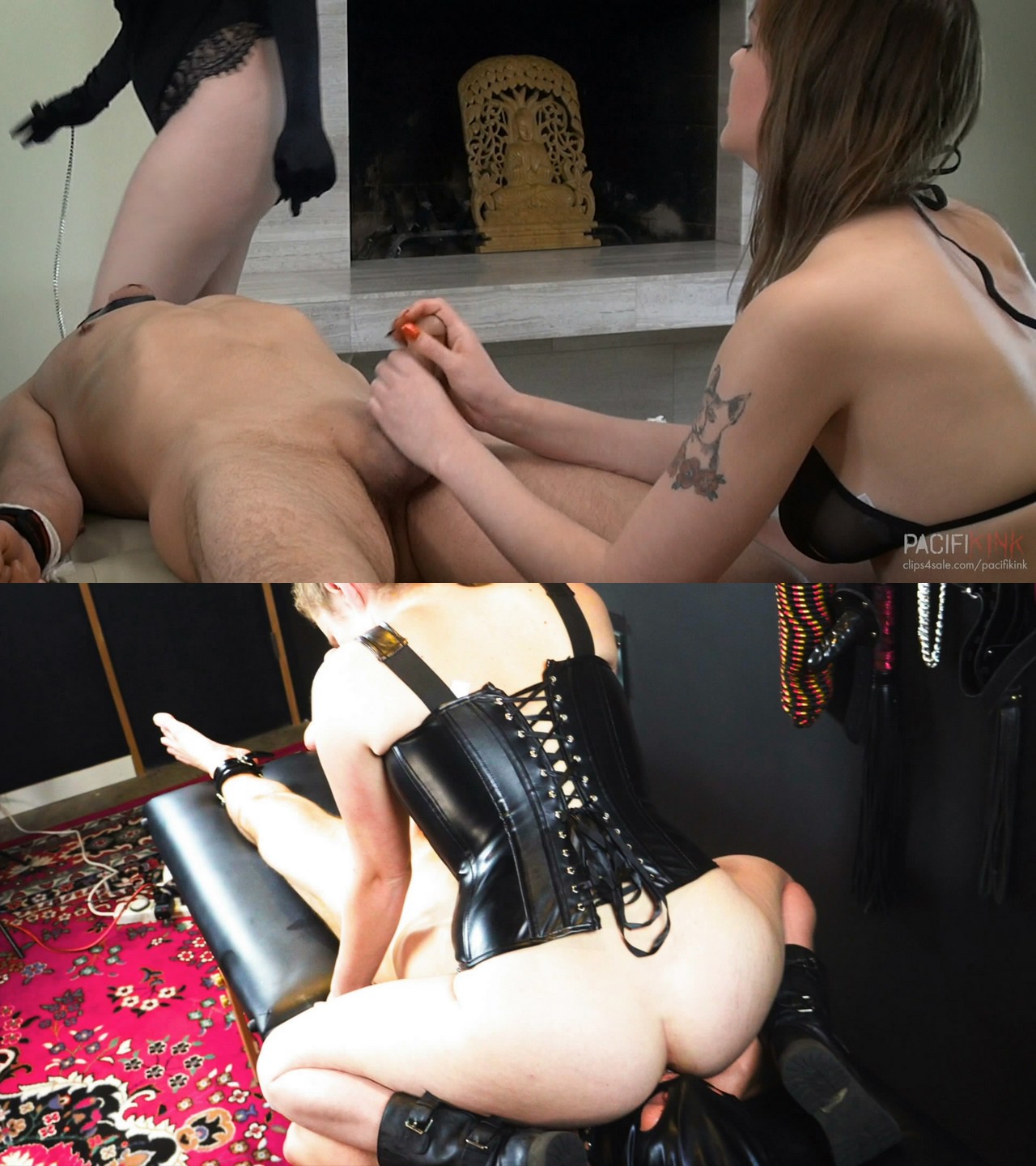 20 Year-old budding Dominatrix Lady Sinthia Payne is training Her slave to love the smell and taste of EVERYTHING that comes from Her Goddess body. She starts this clip on the toilet, relieving Herself of Her *ahem* solid-waste, when She comes up with the idea to make Her slave clean up Her dirty asshole afterward. She hides the toilet paper and summons "bitch-boy" into the bathroom.
She asks him why he wan't at Her feet while She was on the toilet, because She wants to start his toilet training today. He is confused and asks "where's the toilet paper, Mistress?". She informs him that he will be doing the cleaning "with your tongue". She stands up and spreads Her magnificent cheeks apart, exposing Her filthy asshole to the whining slave. He slowly approaches as She threatens him if he doesn't. "Really get in there!" She orders him as he gags at the taste. She continues to tell him that She expects it to be spotless. Great close-ups of the slave's tongue going directly into Her dirty anus – She even farts in his face! Finally, he announces that it's clean, so She tests this by wiping deeply. Unfortunately for the slave, the toilet paper is NOT clean, and so She informs him of his forthcoming punishment "we'll have to have some fun later".
Princess Veronica Valentine and Mistress Sailor Luna are training their slave to love all things ASS. They have already punished him whenever he gets hard for pussy, and then rewarded him and stimulated his worthless cock when his tongue was tasting a Mistress' delicious rosebud. The two gorgeous, budding young Female Supremacists approach the bound and blindfolded slave. They explain to him that now that they've been successful in re-orienting him to LOVE the taste of a Goddess' anus, they are taking his Ass Re-Orientation training to its logical, final conclusion: turning him into a full human toilet! They tell the slave since he's always been a big brown noser, this is a perfect role for him. Princess Veronica announces this as She lowers Her filthy ass to the un-suspecting slave's mouth.He recoils, gags and screams but She isn't in the mood for it; when She finds he isn't licking up Her caviar She orders him to get his tongue deep in Her asshole, as Mistress Luna jacks his pathetic cock. The slave has no choice but to start licking Her gorgeous but dirty ass, licking up every morsel of Her precious waste.
Mistress Luna is next, and starts by making the slave suck out Her filthy panties (the Ladies clearly used no toilet paper). The slave is gagging and retching and is probably better off not seeing the filthy mess that he is consuming; She makes him hold his tongue out so She can clean the mess in the crotch of the truly disgusting panties. She leaves them on his for to keep him company as they leave the humiliated slave – now a toilet slave – for the night. Not for the squeamish, but we feel most toilet slaves will make this clip a prized part of their collection. As hardcore as it gets.
It's 3am and Mistress Luna has been out all night, drinking too much whisky and partying with Her boyfriend, before getting a little bit sick (Whisky gives Her the runs) and Her and Her boyfriend fucked multiple times, with him cumming inside Her multiple times. She is still tipsy but is really messy and requires Her slave – who is bound securely to the Queening/Facesitting chair – to lick BOTH of Her filthy holes clean.
A double treat for the lucky slave, a "Chocolate Cream Pie". To make it even more humiliating for the hapless loser, She is going to film him doing it Herself – to send to his girlfriend and his friends, so they can see what he dumped her to do for Mistress Luna. The ungrateful slave screams and cries but She will have none of it, and simply plants Her filthy anus directly onto his mouth, forcing him to "…lick harder, licker faster, lick stronger, lick deeper…lick better for ME…" and "…GET IT, GET IT ALL". He is retching and gagging, but She will not let him stop until Her rosebud is spotless (we think he missed a spot in the back).
Mistress Luna then reverses direction and has the slave start eating Her glorious Womanhood; which seems to have very little cum in it…but it was just deep inside Her, as She pushes and that starts a flow of thick, viscous and "chunky" cum, that the lucky slave ungratefully gags on…which only pushes Mistress Luna to dig Her fingers deep inside, on a mission, to find MORE creamy goodness for the licking loser's dinner. A really nasty clip.
Mistress Stephie Staar has been progressively training Her slave to be a full toilet, and has lately been depriving him of food in order to "stimulate" his appetite. When She enters the dungeon, the slave is bound to the bondage bench and when She announces that She's brought dinner from "Taco B*ll", he gets excited, but when She mounts his helpless form and Her magnificent ass descends upon his hapless face, he realizes that this is a "recycled" dinner. He pleads and begs Her: "Please Mistress, don't make me do this!", but Mistress Stephie tells him "C'mon, it's delicious, I thought you were hungry? Get your tongue out and lick it up! You don't want to be ungrateful, do you?. Great close-ups of the slave's brown tongue, as he licks and sucks up the sticky mess. He is choking and gagging but knows there is no use, so he keeps doing his cleaning duty. Mistress repeatedly asks him if it's clean, but She tells him "it better be, or you'll get the cane". After the outside is completely cleaned, he then goes to work on the inside. Mistress tells him to "point your tongue" and get all of the morsels deep inside Her delicious rectum.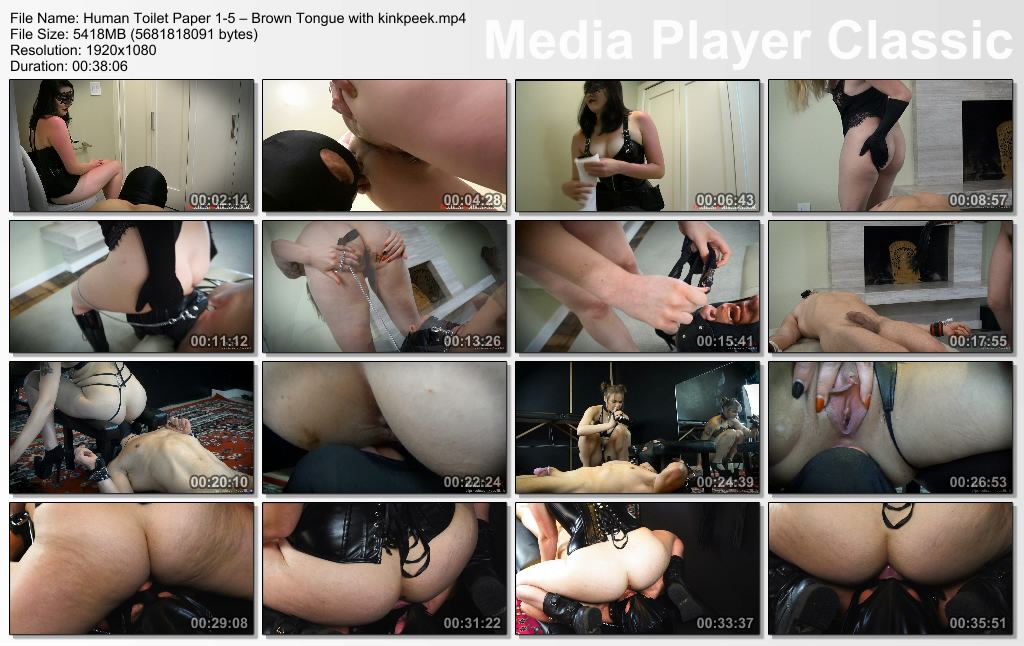 Human_Toilet_Paper_1-5_____Brown_Tongue_with_kinkpeek_.rar
The post Human Toilet Paper 1-5 – Brown Tongue with kinkpeek first appeared on Copro Porn Site #1.